As an Account Manager I know that upselling is a great strategy to increase your customer life value and grow profits.
According to statistical findings, upselling increases revenue by 10-30% on average, while 70-95% of business revenue comes from upsells and renewals on average.
In general, the probability of selling to an existing customer, with whom you have established a relationship, is 60-70%, studies show.
The same applies to upselling – selling a higher priced option or add-on to a product to a new customer is way harder.
That's why (if you want to be successful at upselling) developing strong relationships that are based on trust and bring value to both parties should be your priority.
Let's go over the pros of upselling:
You offer a customer to buy a better (although more expensive) alternative to the product or service you're initially offering to them.
You offer a customer a product with more capabilities that improves their experience with your products and/or services.
You help the customer see the real value and discover new ways to improve productivity, thus increasing their satisfaction level.
You strengthen your trust-based relationship with customers, turning them into loyal customers that are more likely to make repeat purchases with your business.
But! There is a fine line between offering something valuable and being pushy and, as a result, scaring the customer away. That's why you need to be strategic and careful in how you approach upselling.
It's the relationship you need to invest in first. Only then comes upselling!
Here are a few techniques you can use to upsell successfully.
1. Introduce tiered pricing
Upselling is all about your company growing alongside your customers. So, you shouldn't underestimate the potential of low-ticket customers.
Your prospective customer might not be ready to pay $300/month before they experience the benefits of your product. But once they realize the full potential of your product and grow their revenue, expanding their account is just a normal course of events.
To make the benefits of upselling obvious to your customers, create comparisons of your products' tiers, just like Framer does it: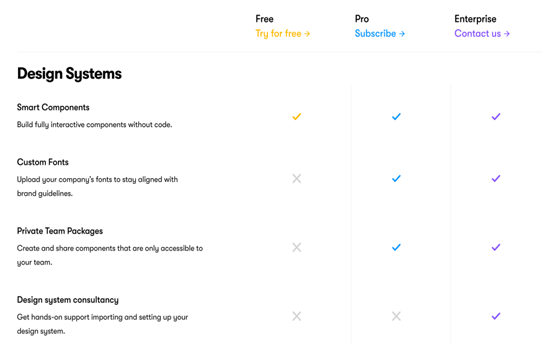 When making a decision whether to upgrade or not, a customer needs to have access to a detailed breakdown of features a more expensive version of the product includes.
2. Ask open-ended questions
Asking open-ended questions not only improves the sales process, but also helps to make customer interactions more effective.
When asking the right questions, you might discover upselling opportunities before any of your pre-defined automatic triggers fires.
Moreover, open-ended questions help to learn what your customers are unhappy with and fix it before they churn to a competitor. Below are eight open-ended questions your customer success managers (CSMs) should be putting in front of your customers from time to time:
How happy are you with our product/service? Please, rate from 0 to 10. 2
What makes you give this score?
What is it that you like the most about our product/service?
Would you recommend our product/service? Why?
What challenges have you faced when using our product/service?
How has our product/service helped you reach your business goals?
How could we improve your experience with the product/service?
What else would you need to improve the results you've reached with our product/service? Could I offer you access to additional features?
3. Provide excellent customer service
The importance of customer experience can hardly be overestimated. 86% of buyers are ready to pay more for a great customer experience.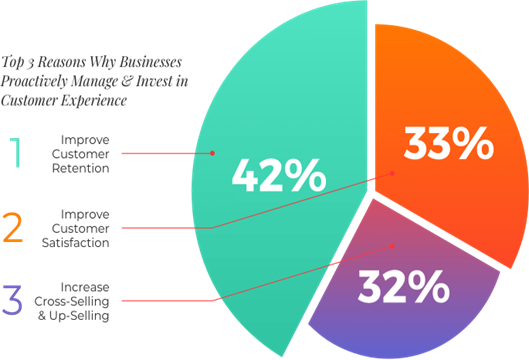 To upsell existing customers, you need to make their experience with your product or service stellar.
Here are a few steps you can start with to deliver a great customer experience:
Listen to customer reviews.
Provide reactive customer support.
Respond to arising issues promptly.
If you can't solve an issue fast, acknowledge you've received and processed the request.
Integrate users into product development.
Provide a knowledge base that allows customers to resolve their issues themselves.
4. Build emotional bonds with your customers
Surprise, surprise! 😲 Emotional connection has an even bigger impact on customer lifetime value and retention than customer satisfaction.
Customers who feel emotional attachment to a brand have a 306% higher lifetime value with an average tenure of 5.1 years. I've been with SuperOffice for a decade now, and a lot of my customers pre-date my time here!
Here are four simple ways to create emotional connection with your current customers:
Show real people behind your brand. For example, instead of sending messages from the 'team@company.com' email, introduce a team member behind this email.
Ensure excellent customer support. Who cares how good your product is if a user can't find a way to address a simple issue? A cheerful customer support manager not only drives a better customer experience but also improves your brand image in the eyes of your customers.
Be honest and vulnerable. You can turn a negative product experience into a positive one if you're not afraid to admit you might have struggles.
Use humor. A well-timed humorous campaign can be better than a hyper-targeted upsell email.
5. Understand customer data
You should keep a close eye on the customer data if you want to build a successful upselling strategy.
Segment audiences based on their experience in the subject, interactions with your company, lifecycle stage, subscription type, or any other criterion that divides your customers into discrete groups.
Segmentation will allow you to target each group with more personalized campaigns and spend more time on the most successful customer groups.
Introduce a customer health score to assess how happy (or not) your customers are about working with you.
To do customer health scoring, you need to take the following steps:
Pick a customer relationship management (CRM) platform.
Define an outcome – in your case, it's the likelihood of an upsell.
Specify signals indicating customer health – these might be the frequency of the product usage, depth of usage, the length of the customer lifetime, and many more.
Assign scores to each signal – what weight does each signal have in the equation determining your customer health score?
Create a health score scale.
6. Implement automatic suggestions
It's not only email marketing that you can use as a tool for driving upsells. You should also use the interface of your platform to display pop-up suggestions and upsell messages.
These pop-ups allow you to capture moments when your customers are most engaged and open to exploring extended functionality.
Show advanced features alongside basic functionalities and use built-in suggestions to offer upgrades when a user tries to access those locked sections.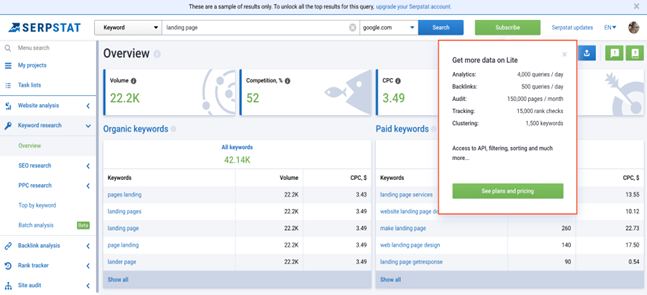 7. Build a nurturing program
Instead of waiting for your customers to take the initiative, build customer marketing campaigns that will prepare the ground for upselling.
Here are a few email ideas to keep in touch with your existing customers outside your platform's interface:
Newsletters
Customer success stories
Use cases
Shortcuts
Best practices
Check-in emails
For instance, to enable their customers to make the most of the tool, Appcues includes helpful resources that guide them through the most common use cases: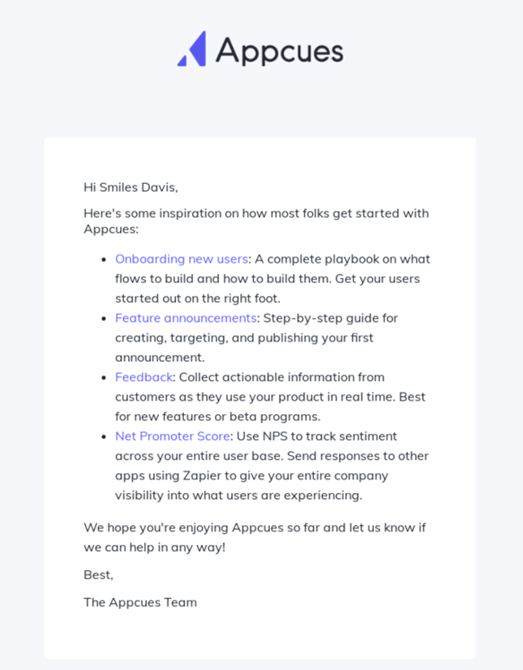 8. Write great upsell emails
Your messaging also matters.
Here are a few rules that I picked up over the years and that help you boost your upsell email open rates and drive more actual conversions.
Start with the right subject line
A catchy subject line is a must. It doesn't matter how good your upselling strategy is if a customer never sees your message.
A good subject line feels personal and communicates the key idea of your email without being too straightforward (easier said than done, right?).
This upselling message from Monday.com grabs your attention due to a short but sweet subject line:

There's no 'too much personalization'
In the email body, get specific about benefits and perks a customer is most interested in.
And avoid one-size-fits-all messaging! Your message should match the indicator that made you activate an upsell campaign for a specific customer.
Did they reach a revenue goal? Then, congratulate them and guide them through add-ons that will help them double profits.
Have they clicked on a top-tier feature? Offer a free trial or a discount allowing them to enjoy the functionality of the top-tier plan.
Make them feel there's a lucrative deal
Your offer should look like a win-win. When people feel like they're offered some sort of bargain, they're way more likely to purchase.
If you've been experiencing difficulties with upselling, try to add a discount code, offer free guidance, or provide any other benefits that aren't typically included in your top-tier plan. And don't forget to use the fear of missing out.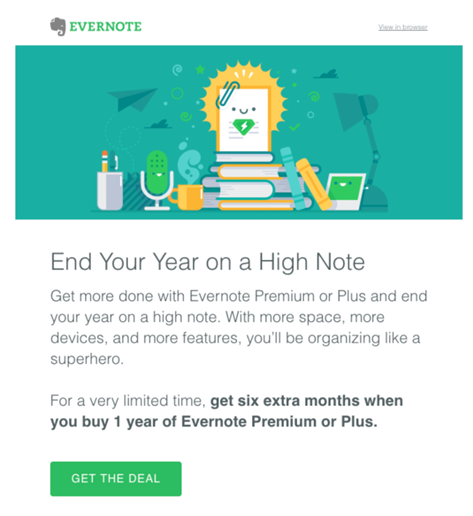 9. Don't turn your customer success team into salespeople
Finally, let's stress that customer success team ≠ sales team.
Your CSMs shouldn't be driven by the will to upsell as many customers as possible.
Remember – the key goal of customer success is to help customers achieve their desired outcomes, aka see value behind their investment.
So, make sure your CSMs focus on delivering exceptional customer experience and run upselling initiatives only when there's a need for it.
Key take-away
Your upselling strategy can either boost your revenue significantly or scare your existing customers away. Before you reach out with an upsell message, take all the necessary efforts to make the need for an upgrade obvious.