The latest version of SuperOffice Service is completely merged with the core CRM, making it a complete solution to all customer-facing teams.
SuperOffice is launching a new version of its cloud-based Service software on April 25, 2023. The launch marks a complete renewal of the request management solution, and the merging of it with the core CRM features.
The next generation of CRM is all about connecting different teams and creating a CRM platform that makes it easier to access and use information in all customer touchpoints.
"Your customer is the same during all steps of their customer journey with your company, so why should the solutions used to communicate with them be different?" says Gisle Jentoft, CEO of SuperOffice.
He continues to explain: "Information sharing, collaboration and personal productivity have always underpinned our approach to CRM. And with this new version of SuperOffice Service, this is easier to achieve than ever."
The importance of customer service to achieve profitable growth
Up until not so long ago, growth was the keyword when it came to business.
Companies everywhere were laser-focused on growing their customer base at all costs.
In a new, uncertain economic climate, the tides have changed, and while growth is still important, being profitable is what makes the real difference for companies.
So, the question is not how do you grow, but how can you achieve stable and profitable growth?
At SuperOffice – a company with more than 30 years of experience in CRM – we think that the best way to achieve profitability is through creating and maintaining strong relationships between companies and customers.
And we don't just say it, we live it.
It's not only getting new customers, but also keeping and selling more to the customers you already have.
We all know the drill: it is five times harder to catch a new customer than it is to keep an existing one. In fact, a 2% increase in customer retention has the same effect on profits as cutting costs by 10%.
So, doubling down the efforts to keep your customers happy and engaged is not only the best practice, but it's also what will make the difference to your bottom-line results.
To help our customers get there, SuperOffice is announcing a new version of SuperOffice Service – a fully unified experience of customer service in the core CRM that puts customer interactions at the center.
SuperOffice Service: the new generation of customer service software
In this new version, we have united SuperOffice Service and core CRM completely.
SuperOffice Service users have already enjoyed a very integrated experience with CRM, but we are taking it to a whole new level by having it all on the same interface, sharing the same database.
All customer-facing teams can now become superheroes who have instant access to all customer interactions, purchase history, quotes, and service requests.
For your customers, this means no more repeating themselves to different customer service agents. It also means faster responses and better overall experience.
For your team members this means a better and faster way to understand and solve requests. It also means more collaboration between teams and a better handover from sales to customer service.
Our goal was to ultimately create a solution that worked the way our customers wanted it to.
This is why we began this project by looking into how customer service teams work and understanding the struggles they face every day.
The issues we found were the basis for our new take on SuperOffice Service:
We saw that customer service teams were constantly switching context, working on more than one thing at the same time, and following several queues.
SuperOffice Service now uses tabs to make it easier to follow more than one queue, or work on more than one request at the same time, without having to change context.
We saw that often customer service teams had to look up information on other tickets while working in a new one.
We made it easier to see the whole interaction a customer has had with your company without needing to change windows. We also added ways to check the whole thread of tickets to make it even easier to check the current exchange.
We saw that teams had trouble with changing their customer service software layout and seeing the information they thought was most important.
We made sure people had ways to customize their view of queues, change the order and filter information to make it more relevant to their daily work, as well as added other customization possibilities.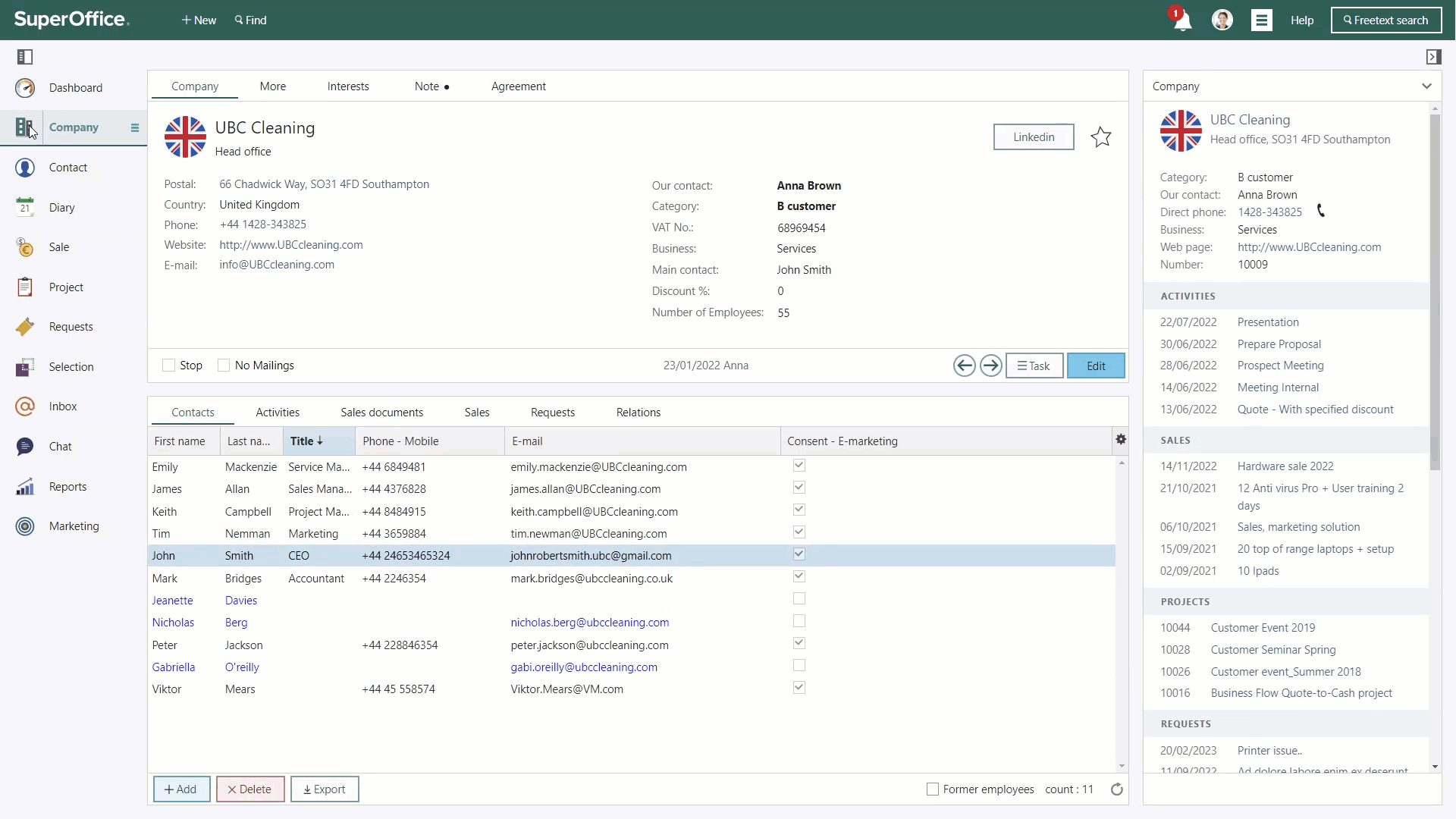 Learn more about SuperOffice Service
Still available as a stand-alone customer service solution and fully integrated with the CRM platform, the new SuperOffice Service is accessible for all new cloud customers from April 25th, 2023. You can see it firsthand by signing up for a demo here.
Existing customers will have access to SuperOffice Service in the upcoming weeks and months and will receive specific communications on how to better upgrade their solution.